Evoker offers a premium quality physiotherapy service in the Sydney CBD that uses effective 'hands -on' therapies to improve your quality of life and reduce the pain you are experiencing. Our Sydney Physio Clinic with modern and updated facilities and an experienced team, are committed to helping you with your health and wellbeing.
We are conveniently located in the Grafton Bond Building in the northern hub of Sydney's CBD, just a short walk to Circular Quay and Wynyard bus terminal and train station. Our clinic has updated facilities using the latest technology and is a warm and professional environment.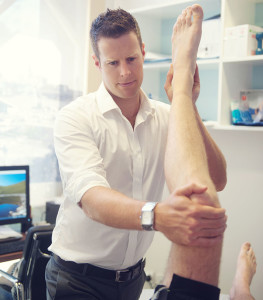 At Evoker, our Sports physiotherapy Sydney offers a range of treatments including general physiotherapy, manipulative physiotherapy, sports physiotherapy, exercise prescription and programming and cervical pillow assessment.
Our goal with sports physio is to 'to get you to the stage where you are able to compete at your maximum potential, in your chosen sport, in the shortest possible time frame'.
We understand that many people living in the busy Sydney CBD are active and we have several years experience dealing with elite athletes. Evoker's team know how to help sportsmen and sportswomen and their specialised needs.
Whether you are an elite athlete or are active for fun and fitness, you can be confident that Evoker can help you. No matter the sport or injury, we want see you active and playing in the shortest possible time frame. We also have connections to other health care professionals enabling all athletes in our care to access to the highest level of injury management from a range of specialists.
If you have a sports related injury, or are wanting to return to your chosen sport, you can contact Kate on 9252 2433 to book an initial consultation with Evoker Physiotherapy.